Welcome to the Erste Bank Open
The Erste Bank Open have been offering world-class tennis at Wiener Stadthalle since 1974. Here you will find the most important visitor information about Austria's biggest tennis tournament in a compact summary.
Venues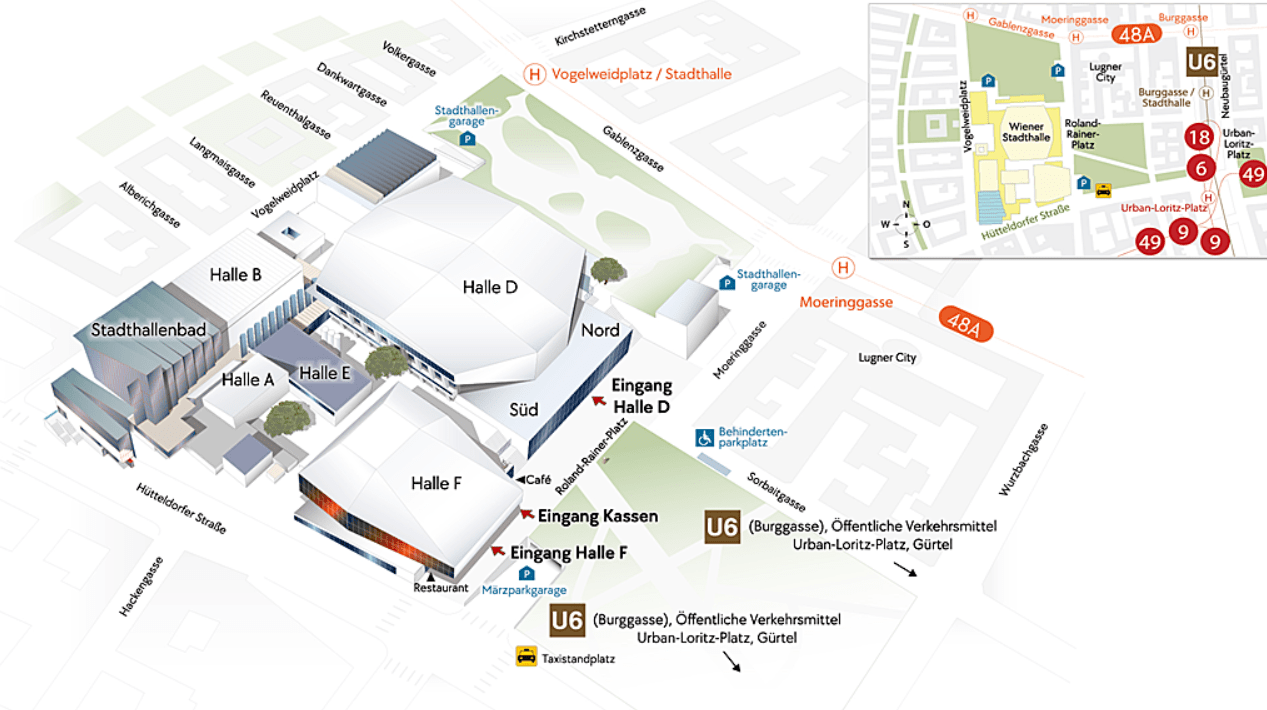 The Centercourt is located in Hall D of the Wiener Stadthalle (Roland Rainer Platz 1, 1150 Vienna). In the foyer of Hall D you will find our info point, as well as the large fan zone with exhibitor booths, food court and lots of exciting activities.

The second match court is located at Erste Bank Open 2 Go at the Wiener Eislauf-Verein at Heumarkt (Lothringerstraße 22, 1030 Vienna), where you can also follow the daily training sessions of the stars live.

In both cases, we recommend that you travel by public transport. If you are arriving by car, you can use the parking garages "Märzpark" and "Stadthallengarage" at the Wiener Stadthalle.
Opening hours
| DATE | ADMISSION | START OF PLAY | PROGRAM |
| --- | --- | --- | --- |
| 10/21 | 10.30 am | 11 am | Qualification |
| 10/22 | 12.30 pm | 1 pm | Qualification |
| 10/23 | 1 pm | 2 pm | 1st round |
| 10/24 | 1 pm | 2 pm | 1st round |
| 10/25 | 1 pm | 2 pm | 1st & 2nd round |
| 10/26 | 1 pm | 2 pm | 2nd round |
| 10/27. | 1 pm | 2 pm | Quarter finals |
| 10/28 | 1 pm | 2 pm | Semi finals |
| 10/29 | 10.45 am | 11:45 am | Finals |
Subject to change
Opening hours VIP-Club 2023
| DATE | ADMISSION | LAST ORDER |
| --- | --- | --- |
| 10/23 | 1 pm | 10.30 pm |
| 10/24 | 1 pm | 10.30 pm |
| 10/25 | 1 pm | 10.30 pm |
| 10/26 | 1 pm | 10.30 pm |
| 10/27 | 1 pm | 10.30 pm |
| 10/28 | 1 pm | 10.30 pm |
| 10/29 | 10.45 am | 6 pm |
Subject to change